There's been an increasing interest in solar energy in the UK due to rising energy prices. Residents and businesses are looking for ways to reduce their energy bills and survive the cost of living crisis. As the demand for solar panels increases, more electricians will be needed to meet the demand for installations, and this presents an exciting opportunity for electricians.
If you're an electrician or run an electrical company, now's the time to take advantage of the demand for solar energy. We've shared a brief overview of the future of renewable energy in the UK and highlighted the top ways to benefit from the move to this renewable energy source.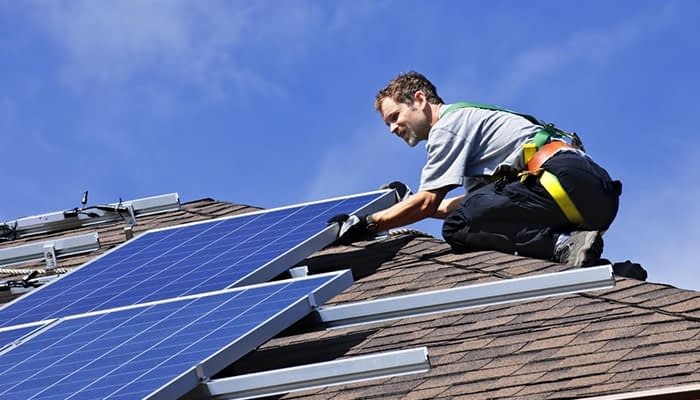 The future of renewable energy

The UK government has committed to reaching net-zero emissions by 2050, and they hope to achieve this by transitioning from fossil fuels to renewable energy. In the future, homes and buildings in the UK will no longer rely on gas to heat homes, and coal-generated electricity will be phased out by the end of 2024. Instead, the country will use renewable energy sources like wind, solar, biomass and hydropower for heating and electricity.

How to capitalise on the demand for solar power

The market for solar energy is only going to get bigger. As an electrician, you're in the perfect position to capitalise on the demand for this renewable energy source and offer solar panel installations. Whether you're a single electrician or employ a team of electricians, here's how to prepare yourself or your business to take advantage of the growing demand for solar energy.

Research the industry

Before entering the market, identify your target market. The information you collect from your research will help you get to know your potential customers. With an understanding of what products and services they want and their current challenges, you can provide a service that will solve their problems and meet their needs. Determine who your competitors are and find out what service they offer, the areas they service, and what they charge for their services. You can use the information about your competitors to differentiate yourself in the market. Find out what they do to be successful, learn from them, and identify their weaknesses so you can offer something they don't to attract customers to your business.

Focus on upskilling and training

You or your team will need the right skills and knowledge to compete with other solar energy companies. Your skillset will determine your efficiency and the quality of your service, so upskilling will be essential to entering the solar energy market. You'll also need an electrical license, which you will already have, and accreditation with the Microgeneration Certification Scheme (MCS). The MCS is an independent certification scheme that regulates the renewable energy industry. While it's not compulsory to be an MCS-certified installer, customers can only claim government feed-in tariffs if they use an MCS-accredited installer and MCS certified products. The accreditation also gives your customers confidence in your services, as they know you must adhere to the scheme's strict standards.

Hire an expert to help you

As a newcomer in the industry, you need to hire someone who can provide guidance. Bringing an expert on board will help you to become an expert too. Because it takes time to grow your expertise, you can focus on your projects while they provide the experience and knowledge required to build a reputable solar energy business. Hire someone who has a comprehensive understanding of the industry, someone who already knows what works and what doesn't, so that you can avoid unnecessary and costly mistakes. Employing an expert will also legitimise your business, giving customers confidence in your service as you transition to renewable energy.

Streamline your business operations

Whether your electrical company is big or small, streamlining your day-to-day business operations should be a top priority before taking on solar energy projects. The shift to solar energy is a big undertaking, and with the stress of upskilling and investing in new service offerings, you must reduce as many manual tasks as possible. The ultimate solution for electricians is Job Management Software, as you can automate, streamline and manage all your processes with one platform.
With Job Management Software, you can:

 

Why choose Eworks Manager

Our Job Management Software is user-friendly and flexible, making it the ideal solution for anyone with limited time to complete admin tasks on-site. Best of all, you can try the system before committing. We offer a 14-day free trial, including full access to the software and assistance from our support team. Your Eworks Manager subscription includes onboarding, support, and all future updates.
Contact us if you'd like to learn more about our software or book a demo with a team member.