Gain Full Control of your Jobs - Visually and Physically. Never Lose Track of a Job or Job Sheet Again. For a 14-Day Free Trial, click here!
Job Management Software - Job Sheet Software Built to Streamline Your Job flow
A full-featured Workforce Management System designed to help manage workflow processes and field staff.
Our workflow application manages all of your workload in one system, including jobs, quotes, invoices, leads, and the list goes on! Create jobs, set appointments for your field staff, and keep track of everything from one system with real-time updates. Eworks Manager is designed for service and trades businesses constantly on the road.
Managing your team has never been easier and more controllable. Our application offers everything you need to control your workload, monitor staff, and boost productivity. We also have a range of features available that can improve communications between you and your team, customers, suppliers, and even contractors. Our Mobile App is built perfectly to suit your remote workers, with the efficiency of a paperless job sheet solution.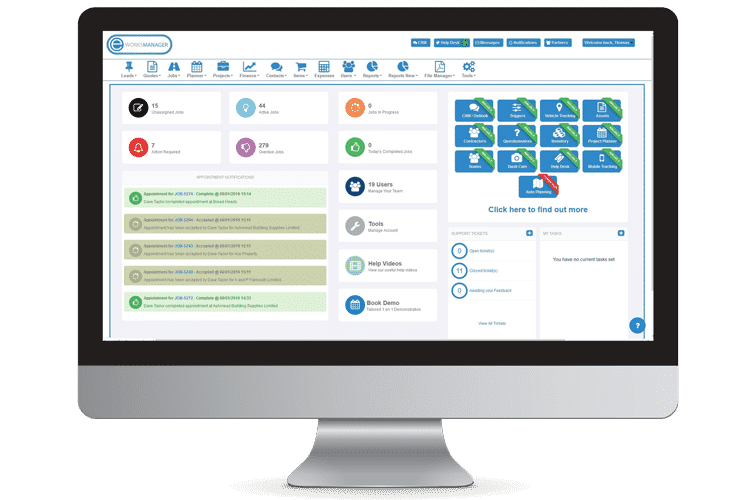 Plan and Schedule Jobs in Advance
Create tasks and assign workers to each job from your browser. The Time Planner calendar allows you to allocate each job or appointment with our drag-and-drop method. Create appointments for your team with a live view of their schedules. Field workers can accept jobs and modify the status thereof using our Mobile App. You can also schedule recurring jobs by setting a re-occurrence rule against a job. The system will track each worker's time on-site, including travel time, so accurate billing can be implemented.
Scheduling jobs in advance can also save time, as staff calendars are automatically synced to their mobiles via the app.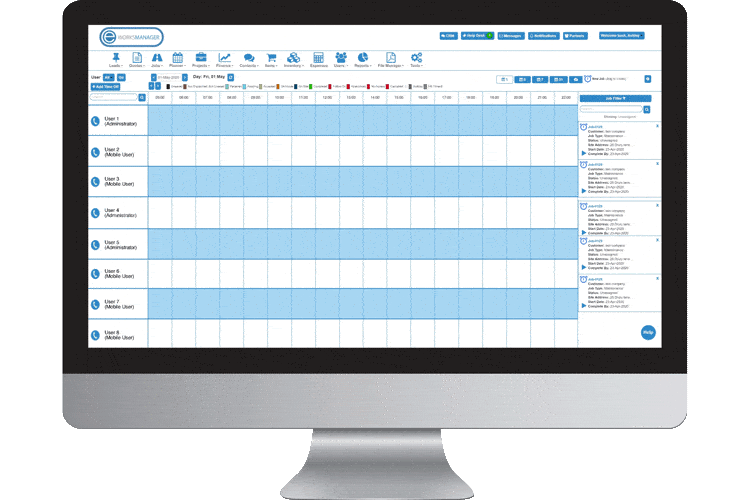 Get Real-Time Updates with our Live Panel
The Live Panel provides a live feed of your teams' progress on their jobs. When the status of a job is updated or additional information is added, the Live Panel in the Admin System gives your admin staff the ability to make fast and efficient responses. Our integrated Job Tracking Software ensures you always know what is happening with your jobs and job sheets. This also ensures that the assigned admin staff can authorise the job sheet and send it for invoicing.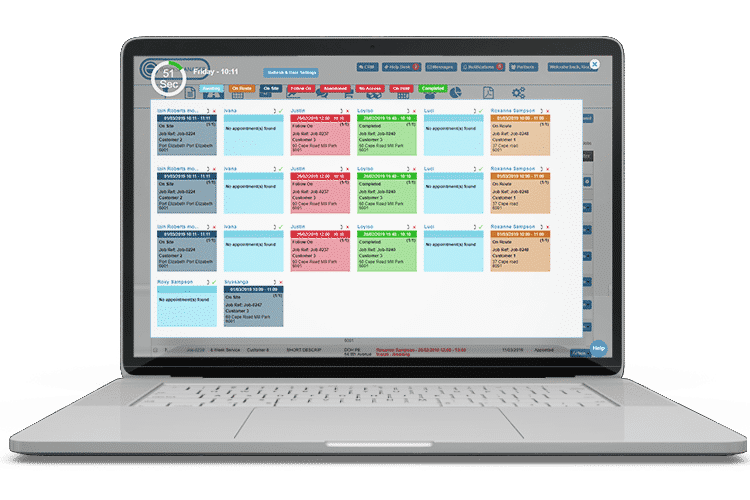 Get Jobs Approved while On-Site
Your remote workers can get approval on their recently completed work directly via our mobile app while on-site. We offer various methods by which field staff can go about this.
Our Signature Approval method allows customers to sign for the completed work. Our Audio Approval can record up to 10 seconds of audio, where your customer can verbally approve the job. The SMS and Email methods will send your customer a link to click on and approve the work completed.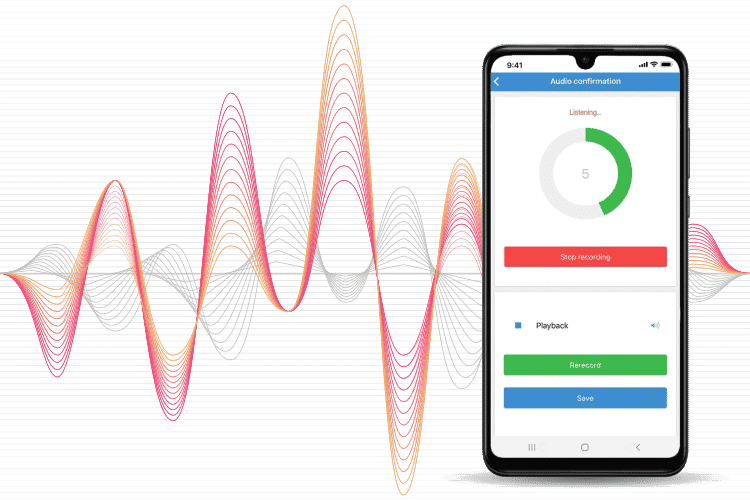 Full Business Reporting
With our management reports, you can identify your most productive staff and the most profitable employees. Extensive reports can be generated, including Job Summaries, Invoice Summaries, User Time-Sheet Reports, and more.
Our system integrates with leading accounting software such as Xero, Sage, and Quickbooks so that no information is ever duplicated or lost. Our export feature lets you export key data needed for your bookkeeper or accountant.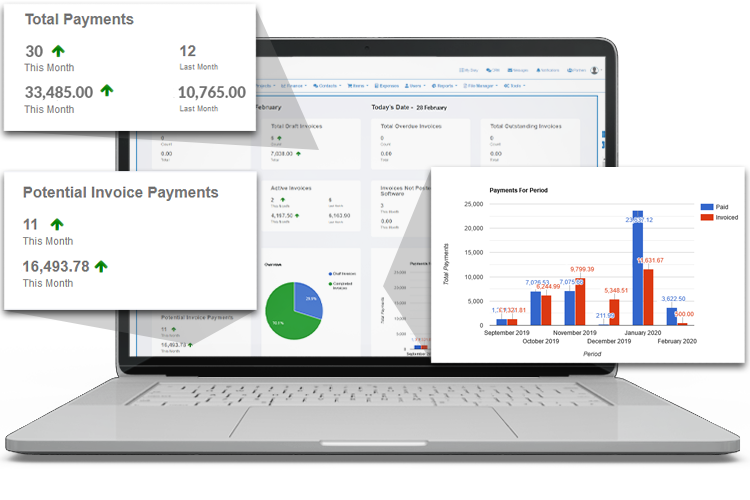 Track Your Technicians in the Field
Our system offers Fleet Tracking and Mobile Tracking. Both tracking functions allow you to view the real-time location of your field technicians and receive automatic updates on their work.
Vehicle Tracking Software has many Fleet Management benefits, allowing you to keep up-to-date with driving behaviour, mileage, journeys, and more.
The Live Mobile Tracking function tracks your worker's devices while in the field. You can identify which site your technicians are at and see how long they are on-site. You can also easily identify the closest team member when a reactive job comes in.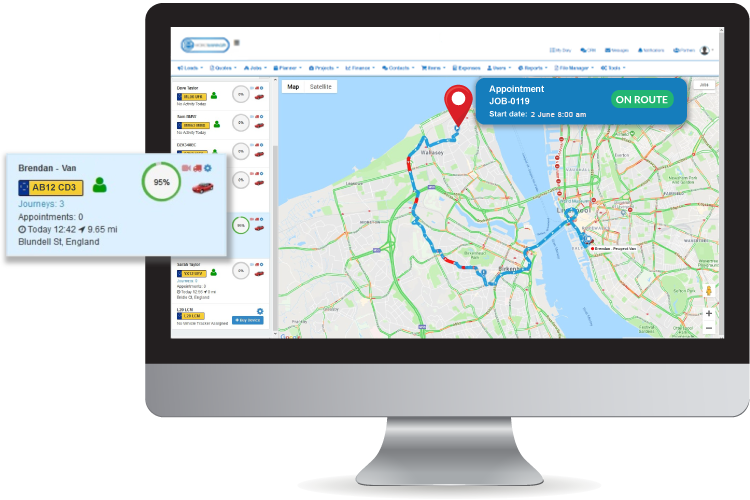 Complete digital documents and certificates from our Mobile App
Eworks Manager can digitise any of your documents, including compliance certificates or questionnaires. You can use our Mobile App to access digital versions of your documents and certificates, so you don't need to worry about losing physical paperwork. These mobile documents are stored within our cloud-based system, so you know your records are always secure.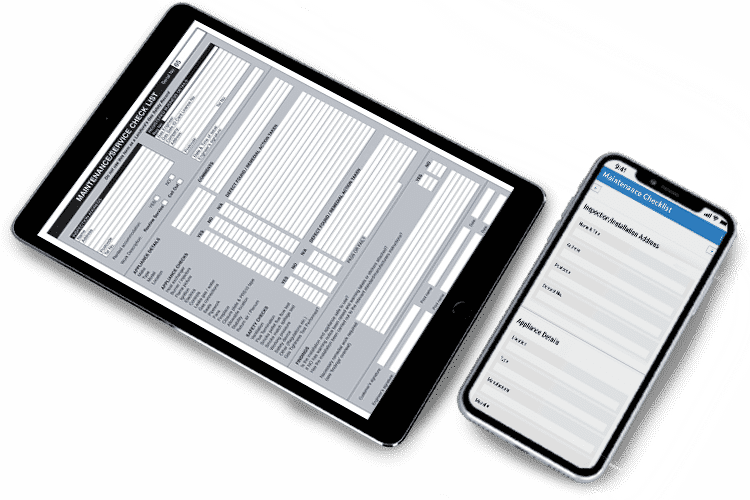 The Complete Business System
Some additional features that would benefit your business
Job sheet & Workforce Management System FAQs
1
What is a Job Management Platform?
A complete Job Management Software will ensure you create, manage, and track your jobs efficiently. Having all your data in one cloud-based system will improve transparency and create a streamlined process for authorising jobs and sending invoices to your customers.
The system is integrated with our Mobile App, which means that every action taken in the field automatically reflects on the admin system, ensuring that admin staff immediately rectify issues that may arise.
2
How will Job Sheet Software fit my business?
Most companies are stuck in the past with heaps of paperwork and haven't considered using an application like ours simply because they are worried about storing their data in the cloud.
When you choose a powerful Job Management System like Eworks Manager, you choose a cloud-based system that transforms how you do business, storing your data securely in the cloud. We have helped many companies achieve increased productivity and profitability and eliminate paperwork.
3
How does Job Tracking Software increase my business' profitability?
If you want to improve your companies profitability, time management is the best place to start. With good time management, you will see a huge productivity improvement, which will, in turn, increase profitability. Our platform will also help with accountability for time, which discourages your team from spending time on non-work-related tasks. Our app reduces time spent on paperwork, which is a massive benefit!