Whether you're already using a system or looking for software for your business, our guide to Job Management Software explores everything you need to know to choose the right solution for your team.
In this article, we'll discuss the following: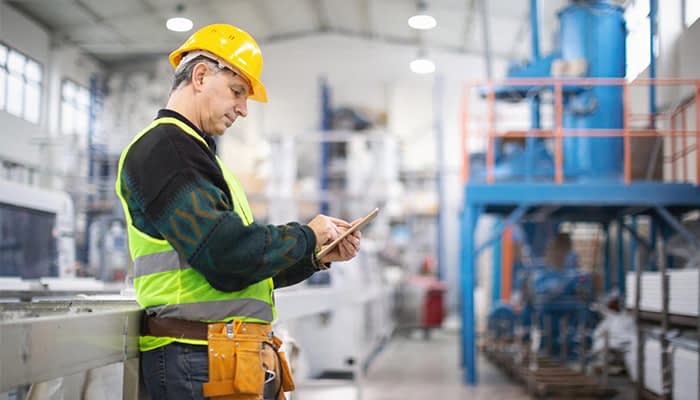 What is Job Management Software?
It's a cloud-based solution designed to streamline and automate job management to reduce manual labour and give you and your team more time to focus on the work you're being paid to do.Because of the software's cloud technology, you can access your data and documents anywhere, making it the perfect digital tool for your field service team.
What industries can use Job Management Software?
The software is ideal for any field service business that needs to support technicians in the field and manage projects and jobs remotely. We've shared some industries that can benefit from signing up for Job Management Software.
These are just some ways businesses in these fields can use software to optimise business processes. Visit our industries page to learn more about how each industry can benefit from implementing the software.
Key features of Job Management Software
We've highlighted the key features of Job Management Software to give you insight into the processes and tasks the software can streamline and automate.
You can use Job Management Software to automate job scheduling to save time and avoid overbooking your workers. The system will automatically allocate jobs to your employees based on location to reduce travel time and allow them to complete more work daily.
Staying on top of leads is crucial to increase your conversion rate. With Job Management Software, you can import leads, assign them to your workers, manage and track all communication with prospects, and convert leads to quotes or customers.
You can use the software to streamline quoting and invoicing to get quotes and invoices to customers quickly. You can create custom templates with your logo, email quotes and invoices to customers, set email reminders for quotes waiting to be accepted and late payments, and automate recurring quotes and invoices.
You can accept payments via the software's integrated payments solution to improve your cash flow and make it easier for customers to pay you. With a product like EworksPay, you can accept payments safely and securely online, over the phone and in person.
To keep equipment and machinery in good condition all year round, you can schedule asset maintenance jobs and keep track of all maintenance work completed. If maintenance needs to be done every few weeks or months, you can schedule recurring jobs to ensure you never miss a maintenance appointment.
Monitor inventory levels, create picking lists, and manage purchase orders with software to improve inventory management. With a cloud-based system, you can optimise inventory levels to reduce costs, increase productivity and prevent delays caused by a lack of materials.
Field service technicians spend a lot of time on the road, but with software, you can optimise route planning to reduce travel time and mileage. Route planning maximises your team's time, helping them get to more job sites and assist more customers in a day.
With Job Management Software, you can support your technicians, even when they're working remotely. You can view their real-time location by tracking their vehicles or mobile devices to improve safety and security and ensure they arrive at job sites on time.
What are the advantages of using Job Management Software?
The best way to determine if Job Management Software will add value to your business is to understand the benefits.A complete understanding of how the software can streamline your operations and make work easier for your team can help you win over management and get your technicians on board when it's time to implement the system.
Optimised job scheduling
Job Management Software streamlines the time-consuming task of job scheduling to save you time and create a conflict-free schedule. With Job Scheduling Software, you can maximise your team's time to help them complete as many tasks as possible while ensuring they have enough time to do quality work.
Improved service delivery
When your processes are more efficient, your team can work quickly and increase productivity. With your technicians working faster and getting more work done, you can keep customers happy and meet their expectations.
Reduced paperwork
Most of your processes are done online with a Job Management System, so the software reduces the need for paper job sheets, quotes, invoices, and other documents. Swopping paper for digital lowers your costs, gives your team immediate access to information, and improves the security of your data.
Improved data quality and security
You can improve the quality and security of your data by streamlining data capturing. With Job Management Software, technicians can capture data on-site via mobile devices, reducing human error. The information will be stored on a secure cloud-based system where it can't be lost or stolen.
Effective inventory management
Good inventory management can save you time and money by ensuring you have enough materials while preventing overstocking and optimising your warehouse space. With all the suitable materials required for jobs, your technicians can avoid delays and complete projects on time to increase customer satisfaction.
Increased asset efficiency
Scheduling recurring maintenance jobs ensures that your equipment is always well-maintained and that repairs are done to prevent breakdowns. An effective preventative maintenance plan can extend the lifespan of assets and keep assets performing optimally.
Good time management
Job Management Software maximises your time by streamlining and automating admin tasks. With fewer manual tasks, you and your team will have more time to focus on meaningful work. Other benefits of good time management include less stress, increased productivity, more energy and more time to focus on decision-making.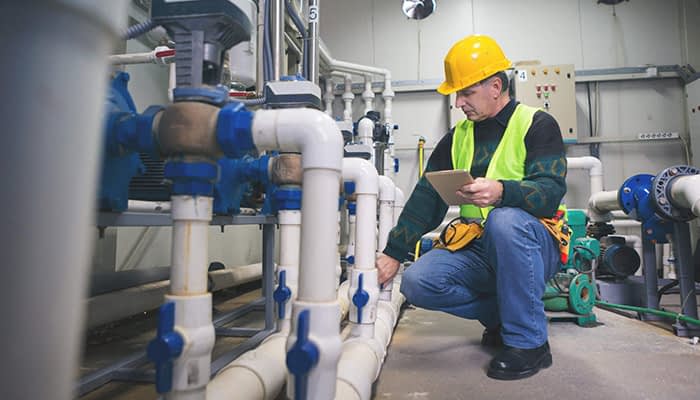 How to choose the right Job Management Software: 6 steps
Choosing the best Job Management Software for your business is a big decision, and there are several factors to consider before you sign up. To make the process easier, follow these steps.
Step 1: Identify your business requirements
Before looking for software, list everything you need the software to do. The best way to determine your business requirements is to map your business processes. With a clear idea of the tasks involved in every process, you'll be able to choose a system that optimises and automates your existing processes.
Step 2: Determine your budget
Consider your budget and how much it will cost to train your team and implement the software. Compare pricing and find out if the cost includes training and support. If the software is offered as a service, you'll pay per user or a monthly fee. A monthly software subscription is ideal as you can add users as your business grows or remove users if anything changes.
Step 3: Sign up for free trials
The best way to know if a system will work for your business is to try it. Once you've researched and found the best options for your business, sign up for free trials. Free trials are usually available for a limited time, so make the most of the opportunity and use the software extensively.
Step 4: Get your team to use the software
Your technicians are the ones that are going to use the software, so their opinion can help you make your decision. Share the requirements you're looking for, and once they've tried the system, get feedback before making your final decision. Including your employees in the decision-making process may encourage them to adopt a positive attitude when it's time to implement the new software.
Step 5: Compare your options
Once you've tested the software and gathered feedback from your team, it's time to compare the systems. Look at each system's specifications, whether the software provider offers training and support, and compare the features with your list of requirements. It's also a good idea to look at online reviews to see what other businesses have said about the software.
Step 6: Implement the software
Once you've chosen your software and signed up, it's time to set up and implement the system. Communicating with your workers during implementation is crucial to ensure they know how the software works. Make sure they understand the value of the software and how it will make their jobs easier. Once the software has been implemented, continue using training and support resources to get the most out of the system.
Sign up for Job Management Software today
The new year is around the corner. Don't wait for 2023 to sign up for Job Management Software - get started today with Eworks Manager.
How it works
We offer several packages for our customers, and our flexible pricing structure makes our software perfect for small and large businesses. Whether you need a system that can accommodate one to five users or over 100, you'll find a monthly subscription that works for your team.
Your 14-day free trial
If you're interested in Eworks Manager, you can sign up for a 14-day free trial to see if our system is the right solution for your business. Our free trial includes full access to the system and assistance from our support team.
See what our customers have to say
Read our reviews and see what our customers say about our Job Management Software. If you like what you see, let us help you do the same for your field service business.
Ready to take the next step? Contact us today to sign up for our software. Our support team is ready to answer all your questions and make the sign-up process as quick and effortless as possible.