Job Management Software that helps you manage and maintain your glazing and window installations. For a 14-Day Free Trial, click here!
Double Glazing Software - Job Management Software for the Glazing and Window Installation industry
How Eworks Manager's Double Glazing Software can help your Glazing Company?
The installation of windows for your clients is an essential feature of any glazing company. In addition to this, fixing broken windows or straight up replacing the whole thing, plays an important role. Besides organising your jobs, making sure you have the right materials for a job is also vital.
You can use Eworks Manager's stock management software to add products to the system such as window panes, glues and other materials used. You can also add all sorts of details such as prices, tax rates and the location of the item. Once added, you can use them throughout the system when building quotes, jobs and invoices.
Quote clients and convert quotes to jobs with ease
Create, print and email quotes directly to your clients.
You can convert quotes into a jobs instantly, without losing any information captured.
Create a quote on-site using our Mobile App, speeding up the job process.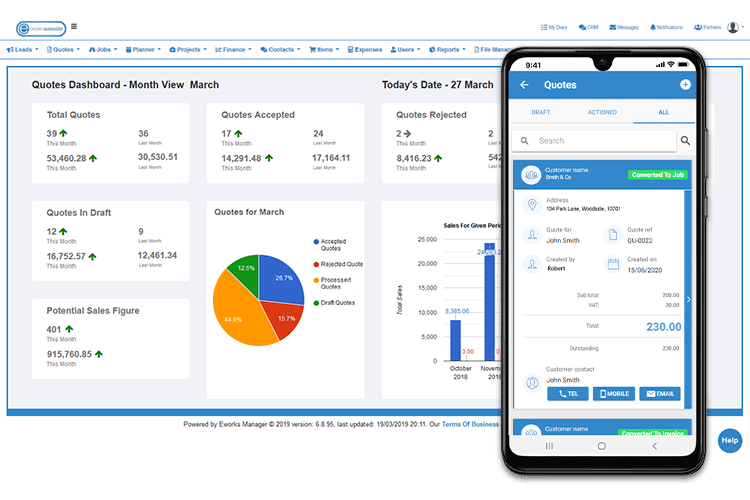 Route Planning allows you to allocate work out economically within seconds
The Eworks Manager Route Planning feature allows you to allocate specific jobs to workers with specific skill sets. The system will show the worker that can tend to the job the soonest, or the worker closest to the job at the time, making it the most economical appointment. This minimises your fuel costs and ensures that the job is done in good time.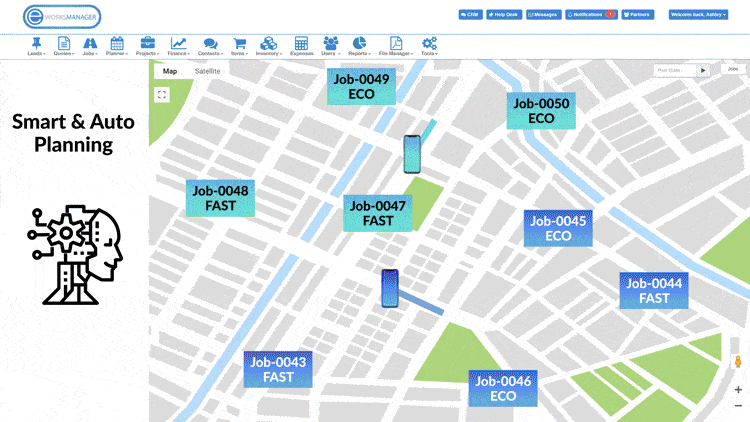 Allocate Jobs and track expenses on projects
Create Jobs for multiple staff working on a project. Track your projects progress along with profit, assets, inventory and other related expenses. Jobs can quickly accumulate costs, that is why we have an Expenses Management system that tracks all your expenses as they occur.
You can create billable or non-billable expenses, which ensures that you have a log of every expense for every job.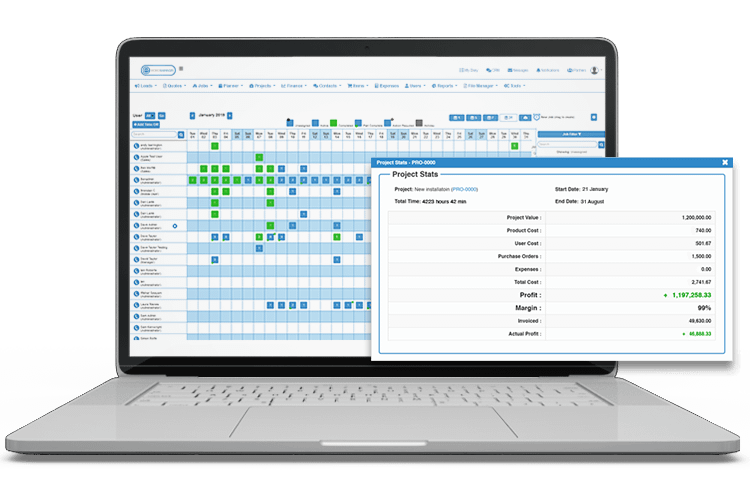 Track your team using Live tracking or vehicle tracking
Eworks Manager offers two tracking features enabling you to see the live location of field workers and receive automatic updates of their jobs, namely Vehicle Tracking and Live Mobile Tracking.
Vehicle Tracking also has Fleet Management benefits, giving you vital information regarding your drivers' driving behaviour reports, mileage, journey reports, and more.
The Live Mobile Tracking feature tracks your workers' devices while out in the field. You can identify which sites your workers are at, and how long they are spending on-site. You can also easily identify who is the closest to any reactive jobs that may come in.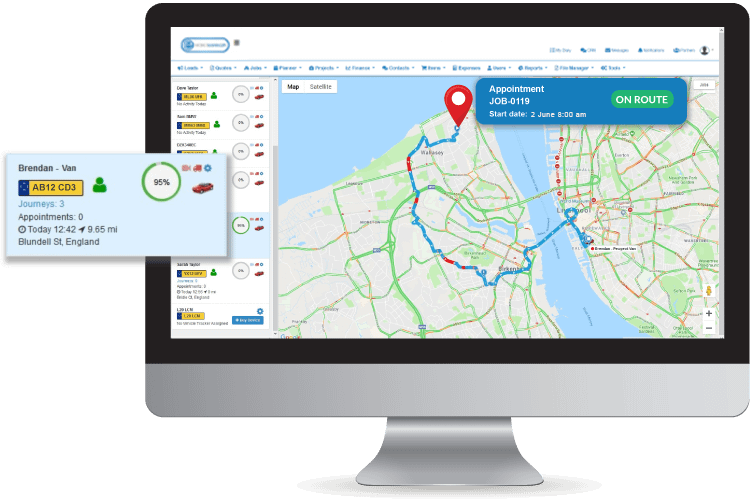 Manage the progress of invoices on projects
Once jobs are allocated to a Project, you can invoice the whole project or invoice each job individually. Using Eworks Manager's Project Scheduling Software, you can view all the jobs for a project, track the progress of each job and send out invoices using the project sheet.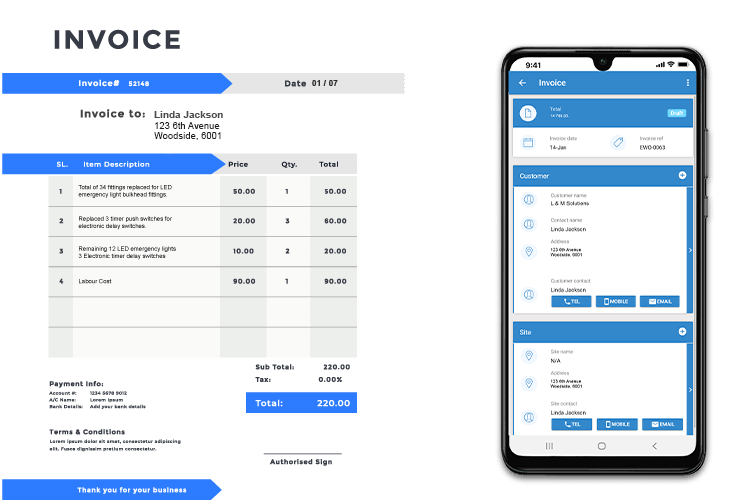 Use reports to make important business decisions
You can improve decision-making with management reporting. A growing business must understand the strengths and weaknesses that lie within the company. You can achieve this by being able to analyse operational and financial data.

Fortunately, Eworks Manager generates comprehensive reports for you, so it's easy to assess the performance reports that matter most to your business.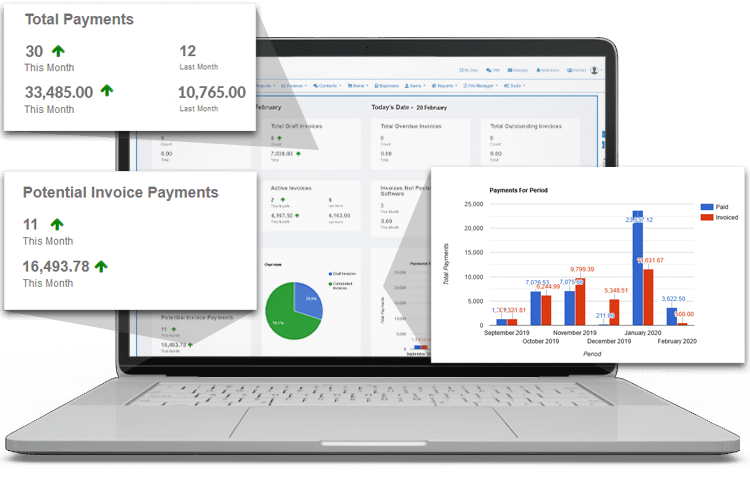 New Job Approval Methods!
Follow social distancing best practices using our latest features when having customers approve jobs.
Glazing Software FAQs
1How will Job Management Software help me with my Customer Service?
With our built-in
CRM Software
(Customer Relationship Management), you can keep track of all customer interactions. This is especially beneficial for your staff and can boost efficiency and team collaboration. This can lead to increased revenue and profitability as tasks can be completed in a much more efficient manner. Any issues a customer may have can be logged in the system and taken care of.
2How will Job Management Software help me with my planning?
Using our vast range of planners makes planning your jobs easy. You can either choose which planner works best for you, or use a variety of planners depending on the scenario you are dealing with. Our Time Planner allows you to see your staff's diaries and assign jobs to available staff. Our Geo Planner gives you access to a live map to see the closest mobile worker to any reactive jobs.
3How can Job Management Software keep my customers informed?
With our customisable triggers, you can set notifications to be set off dependant on actions taken by your staff. Notifications can be sent to customers for job creation, workers on-route to site or on completion of the job. All triggers are fully customisable to suit your business and customer needs.
4Can Job Management Software help me keep my paperwork in order?
Because our Job Management Software is an all-in-one package, including
mobile documents
, all the processes of your business are captured in one single place, in a cloud-based digital platform. This means that all your paperwork is entirely digitised and provides access to a full business history across all processes.