An all-in-one Construction Software that gives full control of your projects, tasks and sub-contractors. For a 14-day free trial, click here!
Construction Software – Job Management Software for managing field workers and job sites
How can Eworks Manager's Construction Software help builders and construction companies?
With Eworks Manager's Job Management Software, you can easily create a quote and convert it to a job. Once a construction worker is assigned to a job, the construction worker will then receive it via our Construction Team Management App. Through this, you can easily track the progress of the work. The office staff can view images the mobile users have uploaded of the completed work and see any notes the user has made. View the customer signature or approval, if one is needed, and then send the invoice as soon as the job is completed.
With our Construction Team Management Software, you can easily track any construction worker's progress and time spent on each job through the status change on the Mobile App. They can change the status of the job from "Accepted" to "On Route", "On-site", and "Complete". In addition, the app tracks the time and geo-location of when and where the status changed.
Read through our list of features below, and see how Eworks Manager's Construction Software can assist your company.
Allocate Jobs and track expenses on projects
Create Projects for multiple workers working on a job. Construction jobs can quickly accumulate costs, that is why we have an Expense Management system that tracks all your expenses as they occur.

You can create billable or non-billable expenses, which ensures that you have a log of every cost for every job.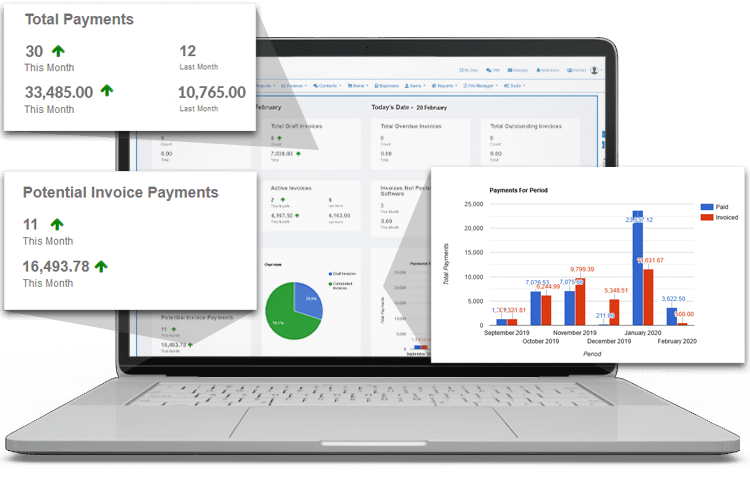 Manage all progress of your projects and invoices
Once jobs are attached to a project, you can invoice the whole project or invoice each job individually.
Using Ework's Project Scheduling Software, you can view all the jobs for a project, track the progress made with each job and send out invoices using the project sheet.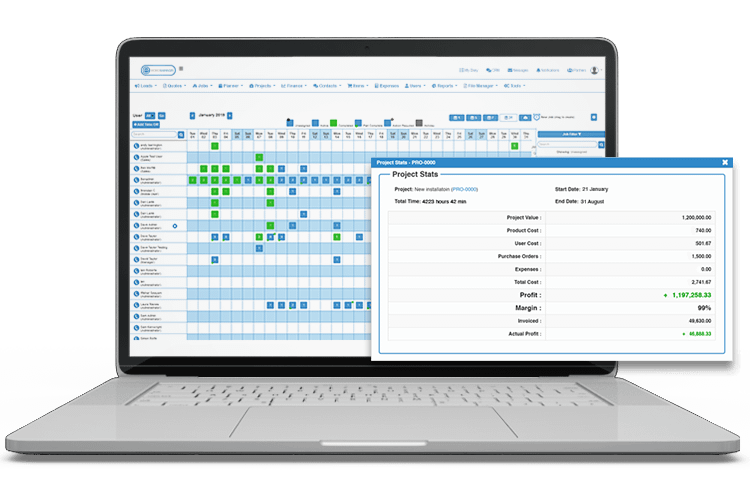 Route Planning allows you to allocate work economically within seconds
The Eworks Manager Route Planning feature allows you to allocate specific jobs to workers with specific skill sets. The system will find the worker that will be able to tend to the job the soonest, or the worker who will be the closest to the job at the time, making it the most economical appointment. This minimises your fuel costs and ensures that the job is done in good time.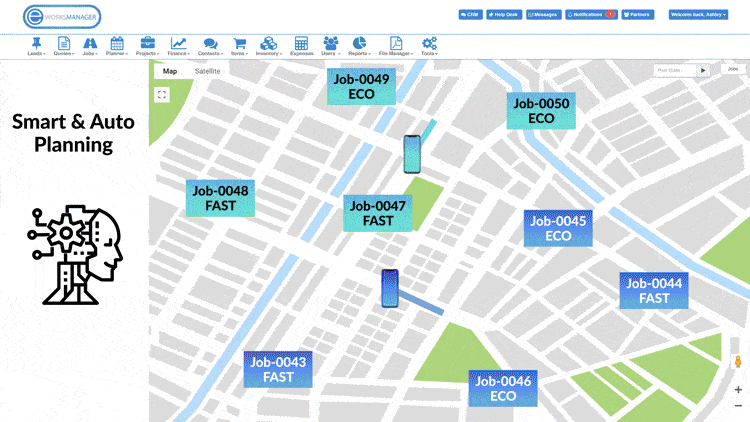 Track your team in the field
Eworks Manager offers both Vehicle Tracking and Live Mobile Tracking.

Both tracking features enable you to see the live location of your mobile workers and receive automatic updates of their jobs.
Vehicle Tracking also has Fleet Management benefits, enabling you to keep updated with driving behaviour reports, mileage, journey reports, and more.

The Live Mobile Tracking feature tracks your workers' devices while out in the field. You can identify which site your workers are based at, and how long they spend on-site. You can also easily track who is the closest to any reactive jobs that may come in.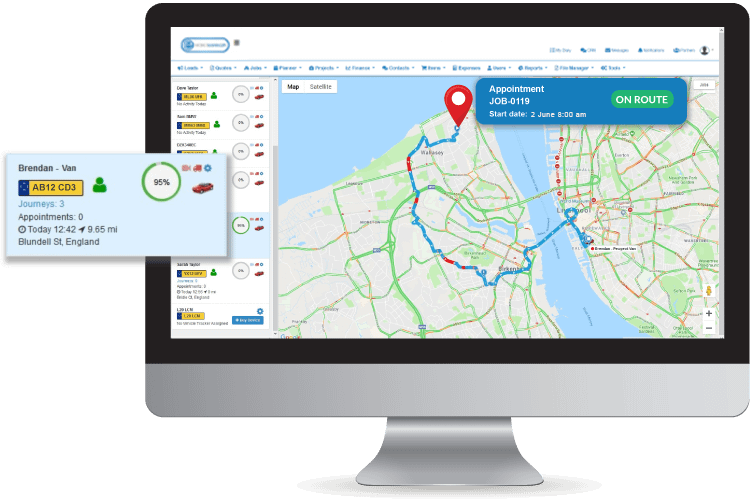 Full Reporting software for a complete overview of your business
You can improve decision-making with Management Reporting.
A growing business must understand the strengths and weaknesses that lie within the company. You can achieve this by being able to analyse operational and financial data. Fortunately, Eworks Manager generates comprehensive reports for you, so it's easy to assess the performance reports that matter most to your business.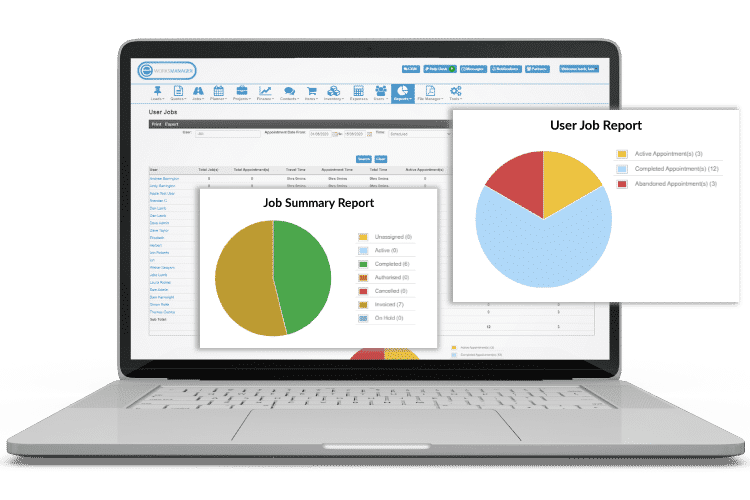 New Job Approval Methods!
Get your field workers to follow the safe practice of social distancing by using our latest features when getting jobs approved from customers.
Construction Software FAQs
1What is Construction Software?
Construction Software
is a combination of different programs that have been tailored specially for the construction industry. It has the capabilities you need to run your entire business, integrated into one easy-to-use system. Our Construction Team Management Software is designed not only to streamline your workflow, but to also eliminate paperwork. Your eniter business works from one system with far more efficiency and it will save you time.
2How will Staff Management Software benefit my workers?
Your team will be able to spend more time doing their jobs, rather than paperwork. Our mobile app removes all the paperwork from the field and automates timekeeping as well as updating the office on the status of jobs in real-time.
3What can I do with Job Management Software?
Create jobs or
job sheets
from the admin system or app. Assign jobs to a project or multiple trade jobs. Our
Workforce Planning Software
also has a virtual whiteboard that allows you to see all your jobs that have been booked.
4Can I track my mobile workers' jobs in real-time?
Real-time
job tracking
helps you react to any issues that happen on-site, instantly!
5Can I monitor my workers in the field?
Our
Employee Monitoring Software
allows the app to track your cleaners' current location and then give them directions to their next job. If you are in charge of several different employees, you can use the software to assign jobs to different staff as needed. You can then track their location so you as an employer can see if they are making their job appointments on time. It is also beneficial to the field workers as the software can be linked to an app which gives them the location and details about their next job.
6Does Staff Scheduling Software improve efficiency?
Eworks Manager's Job Management Software was developed to improve the efficiency of your entire business, for you and everyone in your team. One of the most significant benefits of our software is that we help your business go paperless. The system is accessible via the Admin System, which is typically utilised by your admin staff, and the Mobile App, which is designed for your team of engineers or construction workers. The app enables mobile workers to log jobs, send out quotes, and more. With everything handled from within one app, they can spend more time focusing on whatever job happens to be at hand.
7How will it help me interact with my Customers?
One of the best uses of a Job Management Software like what we offer is for the production of quotes and invoices. When a customer first contacts you, you can assess what needs to be done for the job, and enter your notes into the software to create a custom quote. Once the job has been completed, the software can then send the invoice onto the customer. It is seamless and straightforward at every point of the job.