Are you looking to streamline your business operations, enhance productivity, and deliver exceptional customer service? Look no further than our Job Management Software, an all-in-one platform that empowers you to do all this and more.
In this blog, we'll share 31 reasons why Eworks Manager is the game-changer your business needs. Let's dive in and discover how this powerful tool can transform your field service operations.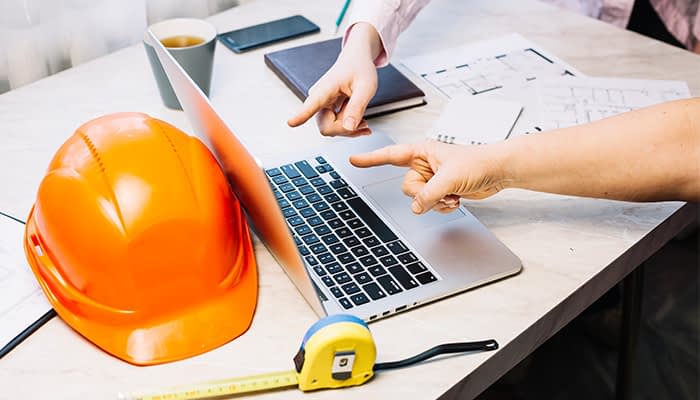 What is Job Management Software?

Job Management Software is a cloud-based application for field service businesses. It's designed to help you manage customer jobs and support your workforce.
You can use the software to manage leads, schedule appointments, track job progress, generate quotes and invoices, and more. By simplifying job management, the system can help you improve efficiency and productivity.

31 reasons to choose Eworks Manager

There are plenty of Job Management Systems on the market, so why choose Eworks Manager?
We've highlighted the features that make our software a powerful, all-in-one solution to show you it's the only job management tool you need:

Easy payments

Accept customer payments online, over the phone or in person with EworksPay, our integrated payments product. Giving customers convenient ways to pay means you can spend less time chasing payments.

Quick setup wizard

Get your Job Management System up and running in no time with our quick setup wizard. Add your logo, users, digital documents and data and activate your plugins in a few simple steps.

Manage and track all leads in one place to increase your chances of converting prospects into customers. Import leads, assign them to employees, track communication with prospects and convert leads into quotes, jobs or customers.

Get quotes to prospects faster. Create a template with your logo and company details to streamline the process. Whenever you need to create a quote, all you need to do is add the prospect's details and job information and send it to them.

Optimise your workforce's schedules to reduce idle time and maximise productivity. Use our Time Planner to view your team's schedule and drag and drop unassigned appointments to available technicians.

Enhance job allocation

Assigning the right technicians to the right jobs can help you maximise efficiency and productivity. Improve job allocation by using our software to allocate jobs to technicians based on their location, skills, availability and the nature of the job.

Real-time job tracking

Improve the visibility of business performance with real-time job tracking. See which technicians are available, their locations and the status of their jobs to ensure your team's on track to meet deadlines.

Reduce overtime costs

Planning and allocating work more effectively can reduce the need for overtime. Use our software to assign tasks based on availability, skills and proximity to job sites to ensure your technicians meet deadlines and don't have to work overtime.

Reduce paperwork

Ditch your paperwork and embrace digital documents, which are easier to organise and retrieve. By reducing paperwork, you can save time and money on printing, copying, scanning, filing and storing physical documents.

Create and send invoices in less time. Create a custom template with your logo and business information to speed up invoicing, and use our mobile app to create and send invoices on-site.

Reduce maintenance costs

Regular maintenance can prevent costly breakdowns and extend the useful life of an asset. Use our software to schedule preventative maintenance jobs and track all maintenance activities.

Improve inventory management

Understocking can lead to delays, while overstocking can leave you with higher storage costs and less working capital. Prevent both issues by tracking your stock levels with our Inventory Management Software.

Enhance health and safety

Following health and safety guidelines is crucial for the well-being of your field technicians. Create custom questionnaires for them to complete to ensure they follow the necessary steps and precautions when visiting a job site.

Route optimisation

Route planning is an effective way to maximise productivity and prevent delays. Use our Route Optimisation Software to find the most efficient routes to reduce travel time and give your workers more time to complete customer jobs.

Mobile accessibility

Our mobile app lets your technicians access job details, real-time updates, and customer information on-site. Mobile accessibility gives your technicians the flexibility to access information anywhere and empowers them to respond faster to requests and urgent situations.

Reduce fuel costs

Overcome the challenge of rising fuel costs by using our Route Planning Software to find the shortest routes to job sites. And use our Job Scheduling Software to schedule regular vehicle maintenance to improve the fuel efficiency of your fleet.

Increase first-time fix rates

Improve your first-time fix rate by giving your technicians the information to fix issues the first time around. Give them access to job sheets and technical resources like manuals and troubleshooting guides via our mobile app.

Better resource allocation

Efficient resource allocation ensures available resources are used optimally to maximise productivity. Use our software to optimise job scheduling and inventory management to ensure each job has the workforce and materials required to meet deadlines and prevent delays.

Seamless integration

Save time, improve data accuracy and boost productivity with our Zapier integration. Connect systems like Microsoft Outlook, Pipedrive, Mailchimp and DocuSign to Eworks Manager to automate tasks, reduce manual data entry and minimise human error.

Improve employee performance

With access to real-time data and reports, you can assess your team's performance, identify areas of improvement and provide training to refine their skills.

Comprehensive reporting

Generate detailed reports to track performance and make informed business decisions. Use our reporting tool to track travel time, driver behaviour, job completion, overtime, employee time off, and more.

Reduce admin workload

Give your team time to focus on customer jobs by reducing admin tasks. Automate mundane jobs, streamline processes like invoicing and quoting, and centralise data to improve accessibility.

Improve accountability

Use our Job Management Software to improve accountability. Track job progress in real-time to address delays and use detailed job sheets to ensure everyone knows what's expected of them.

Better customer service

Our software empowers your technicians to improve customer service. No matter where they are, they can access real-time updates, customer information and job details, enabling them to meet deadlines and customer expectations and deliver excellent customer service.

Improve customer communication

Improve customer communication with our CRM and Help Desk Software. Manage all customer emails and calls in one place, prioritise support tickets, and give clients access to our customer portal so they can request quotes and new jobs.

Competitive advantage

Eworks Manager gives you the tools to improve efficiency, enhance customer service, make data-driven decisions, and stand out in a crowded market. Our software can help your business thrive and excel in a competitive landscape.

Greater customer loyalty

Our software empowers you to meet deadlines, resolve problems and identify areas of improvement to refine your offerings. Delivering a high-quality service can help you attract customers, improve loyalty, and encourage repeat business.

Future-proof your business

Embrace technology to remain competitive in an ever-evolving market. Use our software to make informed decisions to help you respond to market changes and thrive as customer needs and expectations evolve.

Free customer support

Your Eworks Manager subscription includes free support forever. If you have a question or need help, log a ticket on our system or contact us via email, telephone or live chat.

Flexible pricing

Our flexible pricing model makes our software affordable for businesses of all sizes. As your business grows, you can add more users, making our software a scalable solution.

Part of ClearCourse

We're always looking for ways to improve our software, and as a ClearCourse company, we have access to a network of resources and people who can help us do this.
Want to learn more about Eworks Manager?
Book an online demo with our sales team, or start your 14-day free trial to try our Job Management Software.