Handyman Software that helps you manage and maintain your jobs. For a 14-Day Free Trial, click here!
Handyman Software - Job Management Software for handyman and maintenance businesses
How Eworks Manager's Handyman Management Software can help your handyman business?
If you own a company which involves services and maintenance, it's not easy trying to organise all your jobs; especially if you are overseeing a team. What you need to take control, is a handyman management software. This program will transform the way you do business, increasing efficiency, productivity and streamlining all aspects of your business.
Our leading Job Management Software, Eworks Manager, gives you the power to take charge of your handyman business. We offer an all-in-one Job Management Software which can be accessed in the office and via our Mobile App. Both are developed specifically for service and trade businesses.
Quote clients with ease and convert quotes to jobs
Create and print or email quotes and estimates directly to your customers. Convert the quote into a job instantly, without losing any information.
Our Mobile App gives you access to creating quotes on-site, speeding up the process.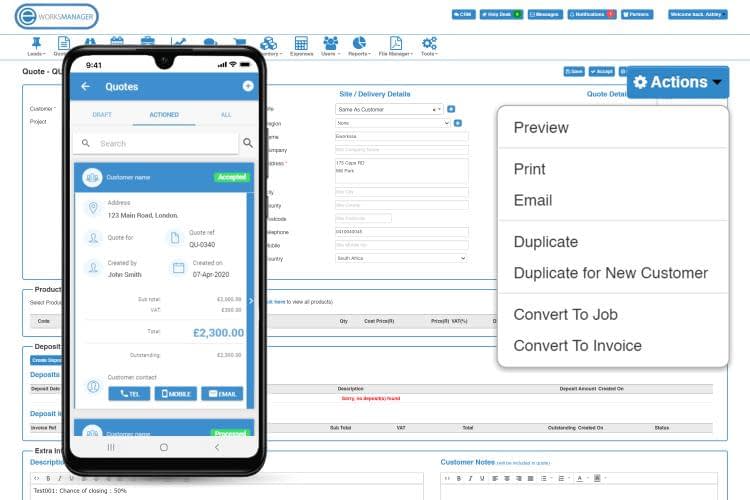 Route Planning & Optimisation to make sure all your appointments are made efficiently
The Eworks Manager Route Planning feature allows you to assign specific jobs to workers with specific skill sets by job type. The system finds the worker that will be able to get to the job the soonest, or the handyman who will be the closest to the job at the time, making it the most economical appointment. This minimises fuel costs and ensures that the job is done in good time.
Our Route Optimisation feature is a step up on the Route Planning, allowing you to have your jobs automatically scheduled based on job type.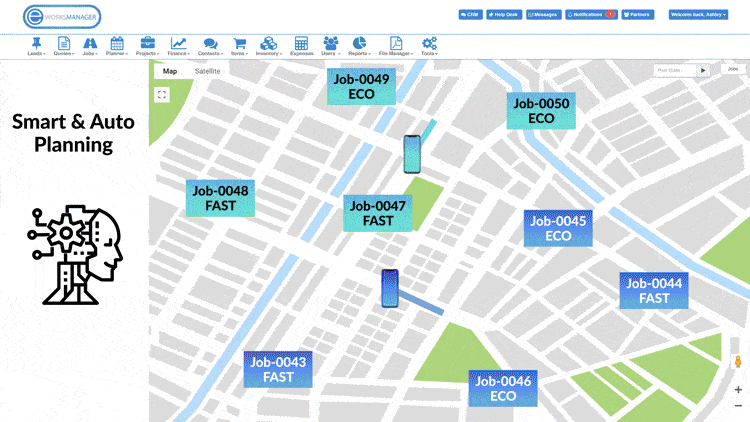 Allocate Jobs and track expenses on projects
Create Projects for multiple staff working on a job. Jobs can quickly accumulate costs, that is why we have an Expenses Management system that tracks all your expenses as they occur.
You can create non-billable or billable expenses, which ensures that you have a log of every expense for every job.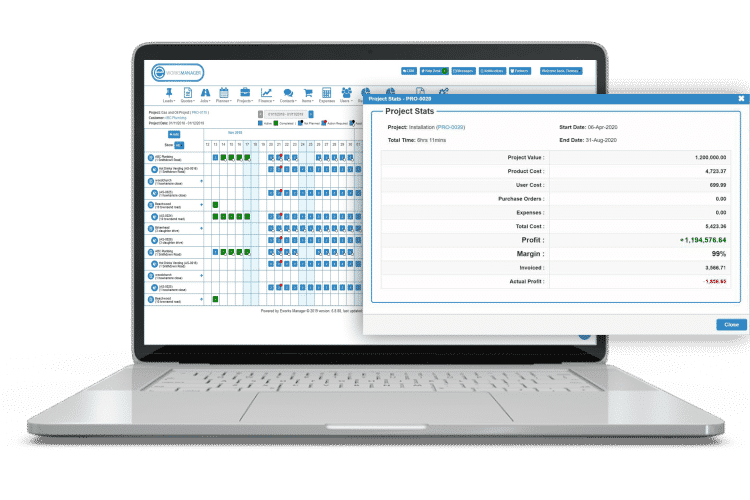 Invoice on-site or in the office
Create invoices with the Mobile App or from the Admin System. Customise your invoices with your company's brand and layout with our easy to use templates. Manage overdue invoices and set payments terms and conditions for each customer.
Eworks Manager also integrates into accounting software's such as SAGE One, QuickBooks and Xero, for your convenience. Our system also allows you to export your invoices for accountants or bookkeepers.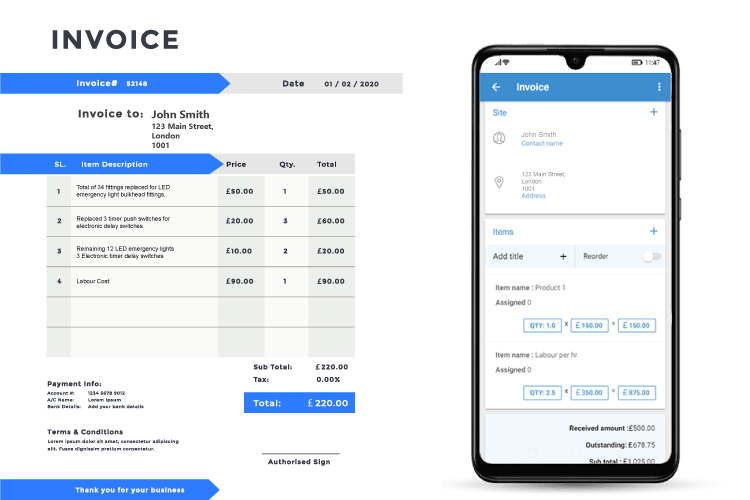 New Job Approval Methods!
Have your field workers follow the safe practice of social distancing using our latest features when having jobs approved by customers.
Handyman Software FAQs
1How will Handyman Business Software benefit me as the Owner?
You, as the owner, have a whole range of tasks to complete to make your business run as effectively as possible. Our Handyman Business Software will streamline your entire business. The software is made up of all the tools you need, from sending quotes to scheduling jobs, tracking your mobile workers, and invoicing. Our software is developed for the service and trade industry and can be accessed on any mobile device, via our Mobile App.
2What can I do with Handyman Management Software?
Create jobs or
job sheets
and assign them to projects or multiple service jobs. Our Eworks Manager
Workforce Planning Software
has a virtual whiteboard, allowing you to see all your diarised jobs.
3Does Handyman Management Software increase efficiency?
Our Job Management Software was created to improve the efficiency of your entire business, for you and your team. One of the most useful features of our software is aimed at getting your business to go paperless. The system can be accessed through the Admin System, which is generally used by admin staff, and the Mobile App, which was moulded for your team of mobile workers. The app allows field workers to create jobs, send quotes, and more. With all your data captured within one app, your workers can spend more time focusing on their current job at hand.
4How will Handyman Software benefit my workers?
Your mobile workers will be able to spend more time on their jobs rather than paperwork. The mobile app removes paperwork from the field and automates timekeeping while keeping the office updated on the status of jobs in real-time.
5Can I track my field workers' jobs in real-time?
Our real-time
job tracking
lets you react to all the issues that happen in the field that occur spontaneously, instantly!
6Can I monitor my field staff?