Ideal System For Domestic And Industrial Commercial Cleaners. Create, Manage and Assign Your Jobs Efficiently. For a 14-Day Free Trial, click here!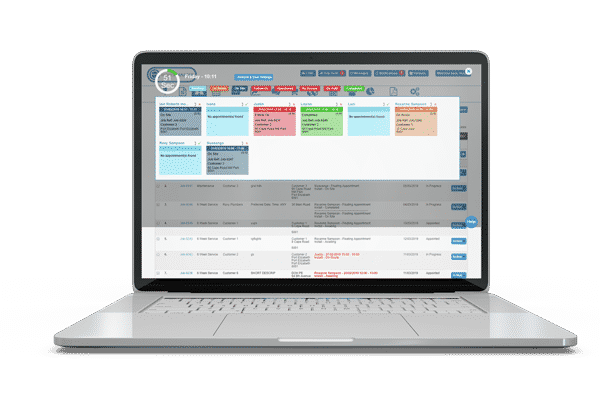 Cleaning Management Software
With Eworks Manager's Job Management Software, you can create a quote, convert to a job, assign a specific cleaner to that job which they will then receive on our mobile app and then track the progress of the work being done. The office staff can view photo's the cleaners have uploaded of the completed work, view any notes the user has made, view the customer signature if one was required and then have the invoice sent immediately after the job has been completed.
You can easily track cleaner's time's spent on each job through the status change from the Mobile App with a few clicks of a button changing the status from accepted to "On Route", "On Site", and "Complete" which will then track the time and Geolocation of when and where the status was changed.
Through the reports feature, you can view your staff time sheets which automatically captures their time spent on every job, there are other various jobs and user reports available on the system, depending on the type of information you want.
Create Recurring Jobs for customers who need your services on a scheduled day and time. All you need to do is create the job, set a reoccurrence rule which will then automatically create the jobs in the Eworks system. Whether it be every day, week or month! The only action left for you to take would be to assign the job to the cleaner. This saves time as there is no need to create the same job every time.The CRM feature lets you capture any calls, emails, notes or complaints against a job, this ensures you are always on top of what is happening in your business which will keep your clients happy and informed which prevents you from searching through hundreds of emails for a discussion that took place maybe two years ago. We also cater for the cleaning industry's diversity, by being able to create custom checklists against a specific asset such as a hand soap dispenser for the cleaner to complete on the Mobile App so you can make sure your staff are doing their jobs properly and to keep track of the materials being used. If you have any documents you would like saved to the system, we can digitise these for you, this allows you to have them on hand when you need them.
Unlike most Job Management Software out there, we provide constant support to all our customers, whether you have a quick question, require some more training on the admin system or the App or require a bespoke to change, we are always here to help with our super friendly customer service team and 24/7 support email. Eworks Manager offers many company benefits and above is just one feature so if you're ready to ditch the paperwork and start your Eworks journey, sign up for your 14-day FREE trial and try it out for yourself!
If you would like to get in touch and discuss our software further and why we think it could benefit your business, please feel free to call our office directly or pop us over an email, we would love to chat and book in a free online demonstration of the software, so you can see why we are the leading Job Management Software for yourself!